Beyond Collagen Powder Sachets subscription
Regular price

Sale price

$101.00
Description
---
Beyond Collagen Powder Sachets box contains 30 sachets, one for each day. Every powder sachet contains premium quality enzymatically hydrolyzed collagen broken down into bioavailable peptides. Beyond Collagen also contains Vitamin C, Zinc, Biotin and Coenzyme Q10 for optimal benefit. Having healthy levels of Collagen is necessary for your skin, nails & hair and maintaining your natural beauty.
Recommended use: Daily
Key Ingredients

Hydrolyzed Norwegian Marine Collagen + Ponkan Fruit + Acerola Fruit + Vitamin C + Zinc + Coenzyme Q10 + Biotin

Marine Collagen: 1500mg of enzymatically hydrolysed collagen broken down into bioavailable peptides (per sachet)
Vitamin C contributes to normal collagen formation for the normal function of skin, bones, teeth and cartilage, and, it contributes to the normal function of the immune system
Zinc contributes to the maintenance of normal skin, hair and nails and contributes to normal protein synthesis
Biotin contributes to the maintenance of normal skin and hair and contributes to normal energy yielding metabolism and normal macronutrient metabolism
What is Collagen and why do I need it?

Collagen is the most abundant protein in your body. It is one of the major building blocks of bones, skin, muscles, tendons, and ligaments, and, is also found in many other body parts, including organs, blood vessels, corneas and teeth. You can think of it as the "glue" that holds all these things together. In fact, the word comes from the Greek word "kólla," which means glue.

Due to a.o. aging and sun exposure, your body produces less and lower quality collagen. One of the visible signs of this is in your skin, which becomes less firm and supple. Cartilage also weakens with age. Having a healthy level of collagen is necessary for maintaining a healthy body and your natural beauty. That is why we recommend supplementing by taking Beyond Collagen.
How does the subscription work?

With a SANA Subscription, you will receive a new box of Beyond Collagen Powder Sachets periodically at your home so you will never run out of your supply of collagen.

As a subscriber, you also benefit from a constant discounted rate. 

To learn more about the subscription, please consult our Terms & Conditions.
What are the benefits of Beyond Collagen?

The Beyond Collagen Powder is developed with a special and unique formula that contains a high amount of environmentally friendly derived Norwegian Hydrolyzed Marine Collagen (i.e. collagen peptides derived from fish) and several other carefully selected ingredients for your supplementation. Next to a high concentration collagen, this product contains a combination of Vitamin C, Zinc, Coenzyme Q10 and Biotin making it a perfect beauty product for improving your skin, hair and nails. 

Research shows that marine collagen has more benefits for human supplementation. Marine collagen contains mostly Type 1 collagen, which is the most abundant form of collagen in the human body. As our collagen is hydrolyzed, it has smaller particles, which make it easier for the human body to digest and absorb.

For more information on what it might mean for you to take Beyond Collagen, see our FAQ page and our Research page.
How do I use it and does it taste good?

SANA Amsterdam prides itself in having one of the tastiest collagen supplements on the market! Our formulas are designed for your optimal benefit and taste.

It's very easy to use the Beyond Collagen Powder Sachets. You should take 1 sachet a day. Each sachet contains 4 grams of powder and is designed to take in one go. You do not need to add anything. Simply open the sachet and pour the powder under your tongue.

We are confident that the taste of our collagen product will positively surprise you and be enjoyable to take every day. The Beyond Collagen Powder formula is created to benefit the user, both in its ingredient composition as well as its marvelous taste.

Our products do not need to be cooled, although we recommend to keep the sachets in a cool and dry place.
All Ingredients & Nutrition Table

Ingredients: Sweetener [Isomalt (Hydrogenated Palatinose)], Collagen (Fish) (37.5%), Acerola Fruit Extract (Malpighia glabraExtract, Maltodextrin) (12.5%), Strawberry Flavor Powder, Barley Grass Powder (Hordeum vulgare) (0.5%), Zinc Gluconate (0.5%), Sicilian Lemon Flavor Powder, Vitamin C (L-Ascorbic Acid) (0.25%), Acidity Regulator (DL-Malic Acid), Coenzyme Q10 (0.25%), Thickener (Guar Gum), Blueberry Powder [Maltodextrin, Blueberry, Acidity Regulator (Citric acid)], Ponkan Fruit Extract Powder (Citrus Reticulata) (0.13%), Sweetener (Steviol Glycoside), Biotin (0.001%)

Allergens: Fish

Nutrition value per daily dose (4 gram)

Energy: 63 kJ/ 15 kcal

Fat: 0.02 g (of which Saturates : 0.0 g)

Carbohydrate: 2.1 g (of which Sugars: 0.03 g)

Protein: 1.6 g

Salt: 0.01 g

Micronutrients:

Co-enzyme Q10: 1.1 mg

D-biotin: 25 μg / 50% RI

L-ascorbic acid: 10 mg / 13% RI

Zinc: 2.6 mg / 26% RI

Salt Content is exclusively due to the presence of naturally occurring sodium.

*Reference intake of an average adult is 8,400 kJ/ 2,000 kcal per day. 

Beyond Collagen is a food supplement that contains some sweeteners to ensure its marvelous taste. Keep in mind that food supplements should not be used as a substitute for a varied diet. Do not exceed the stated recommended daily dose of 1 sachet. Excessive consumption may produce laxative effects.
Share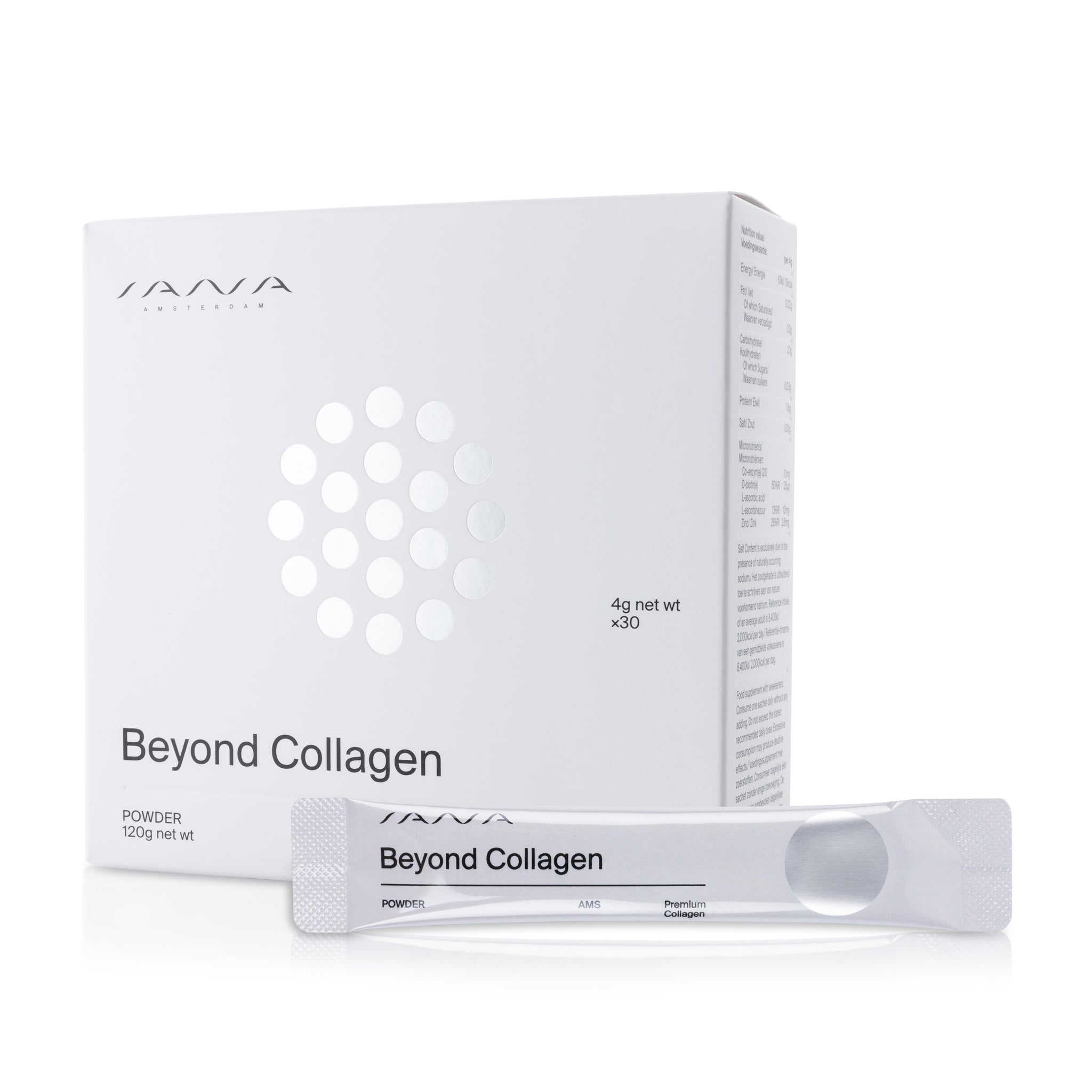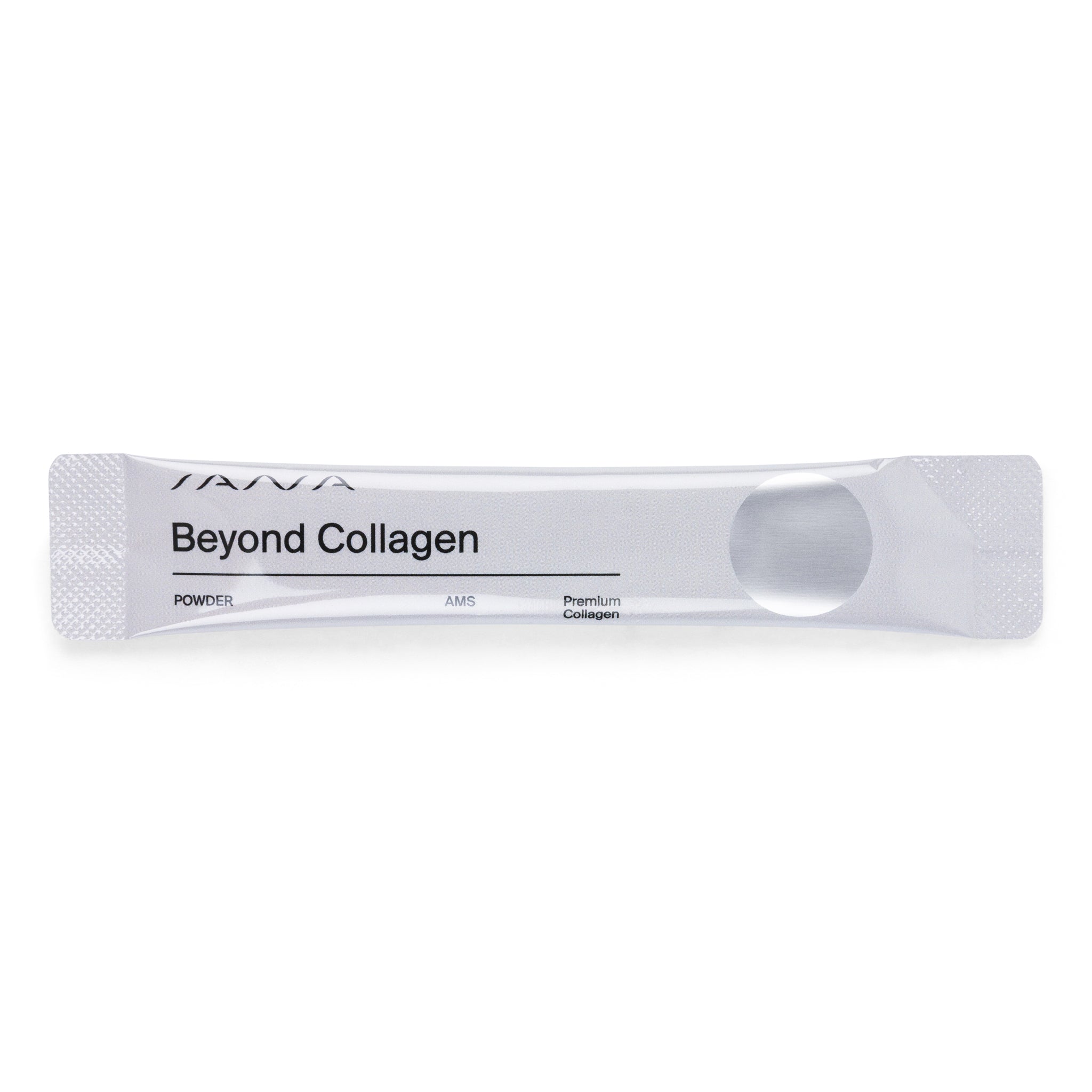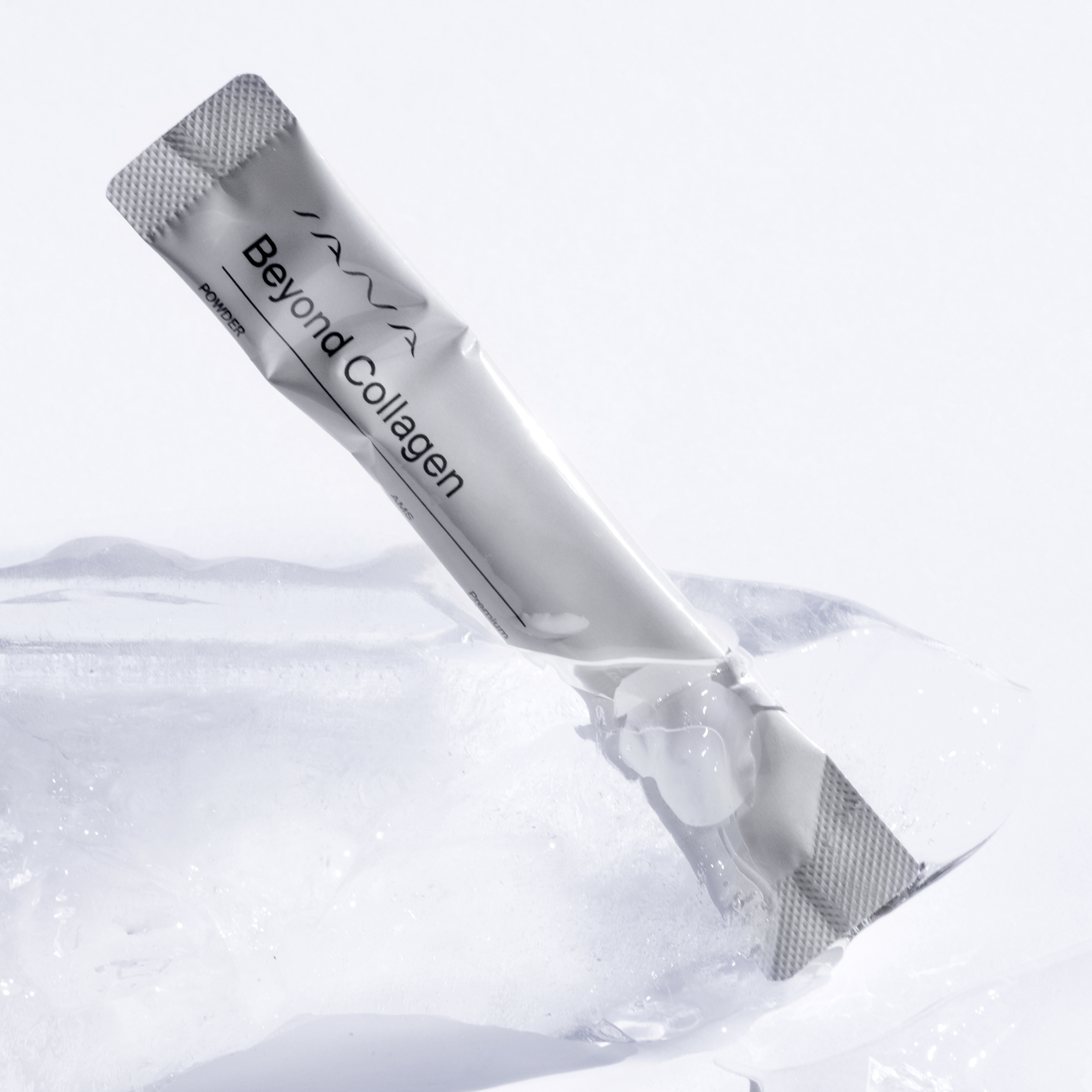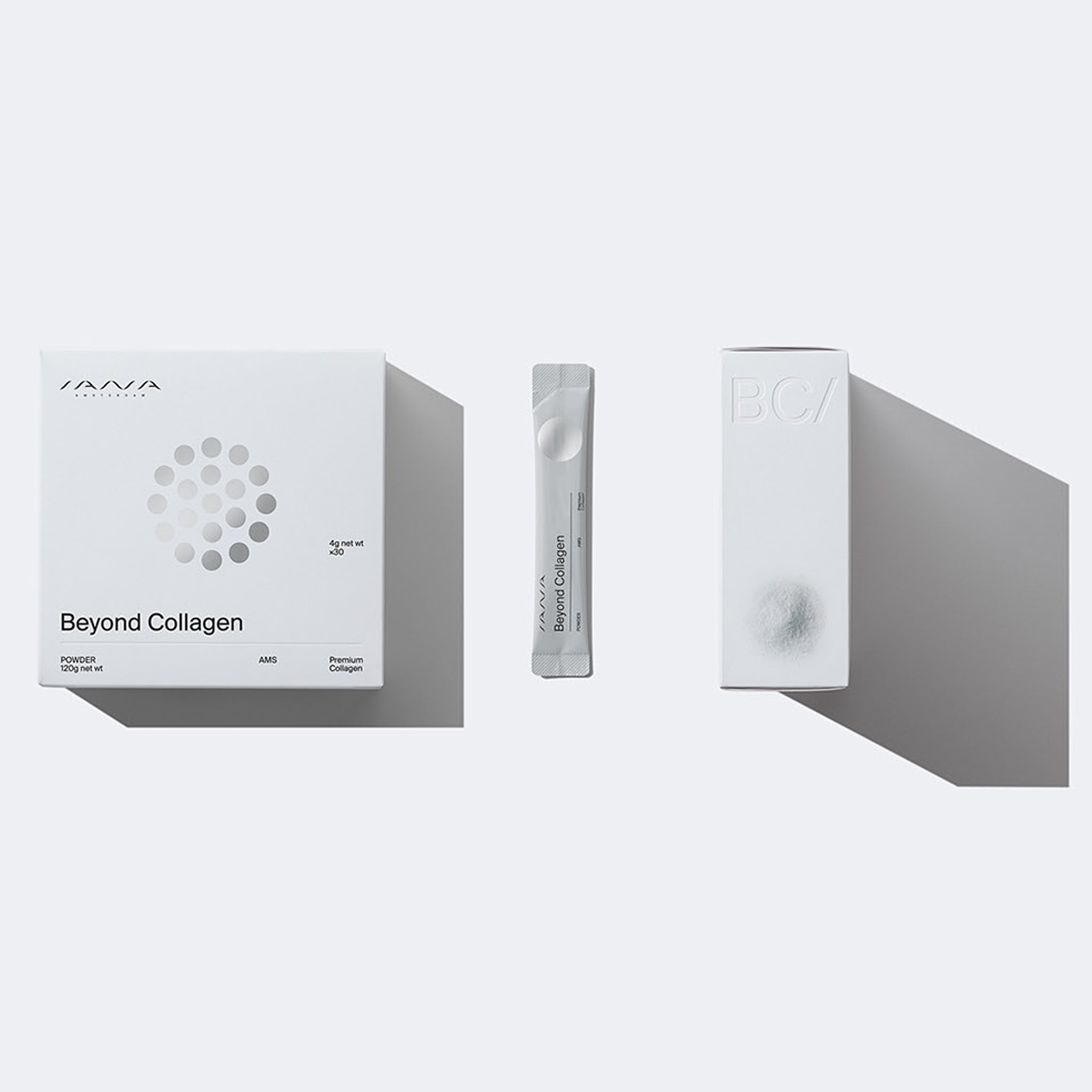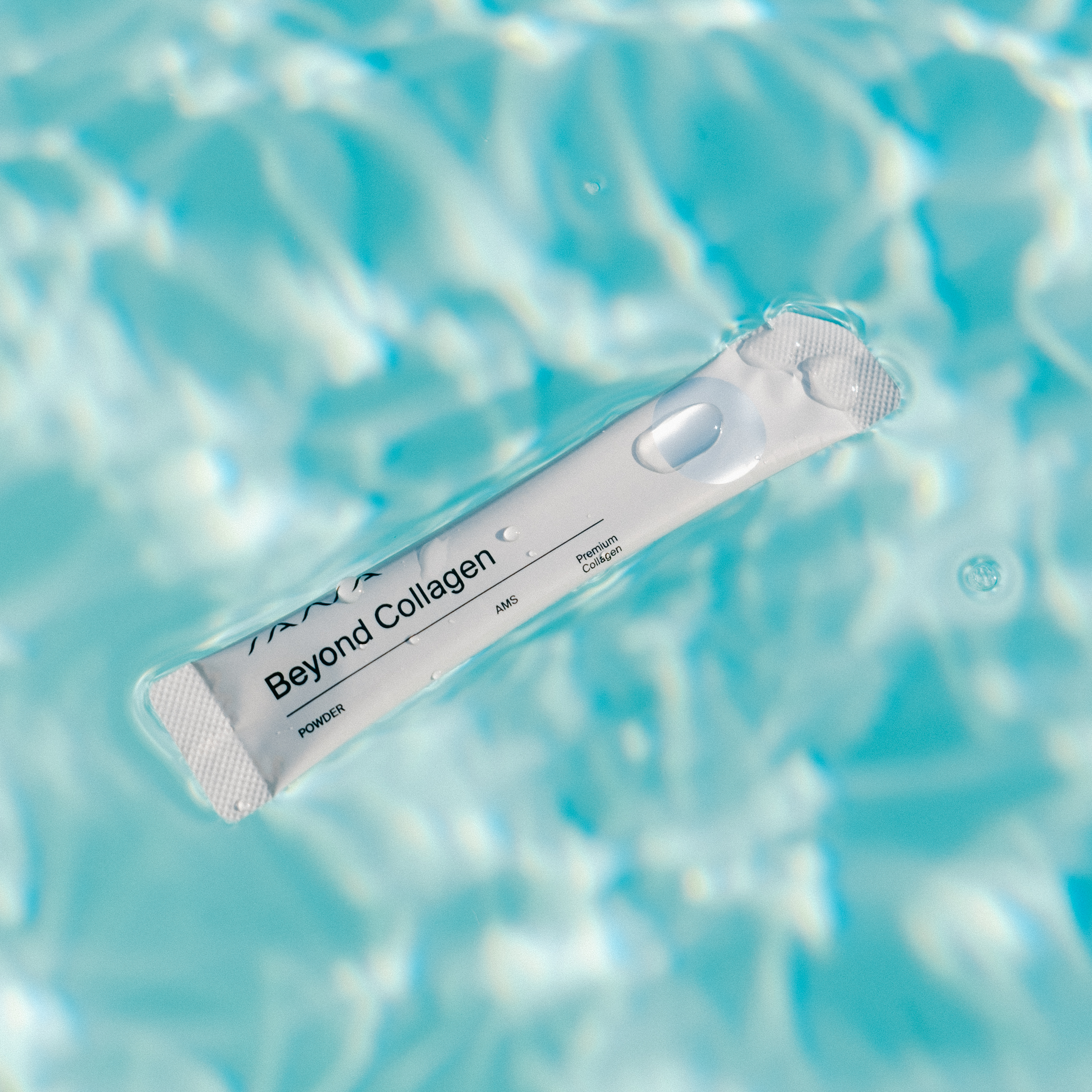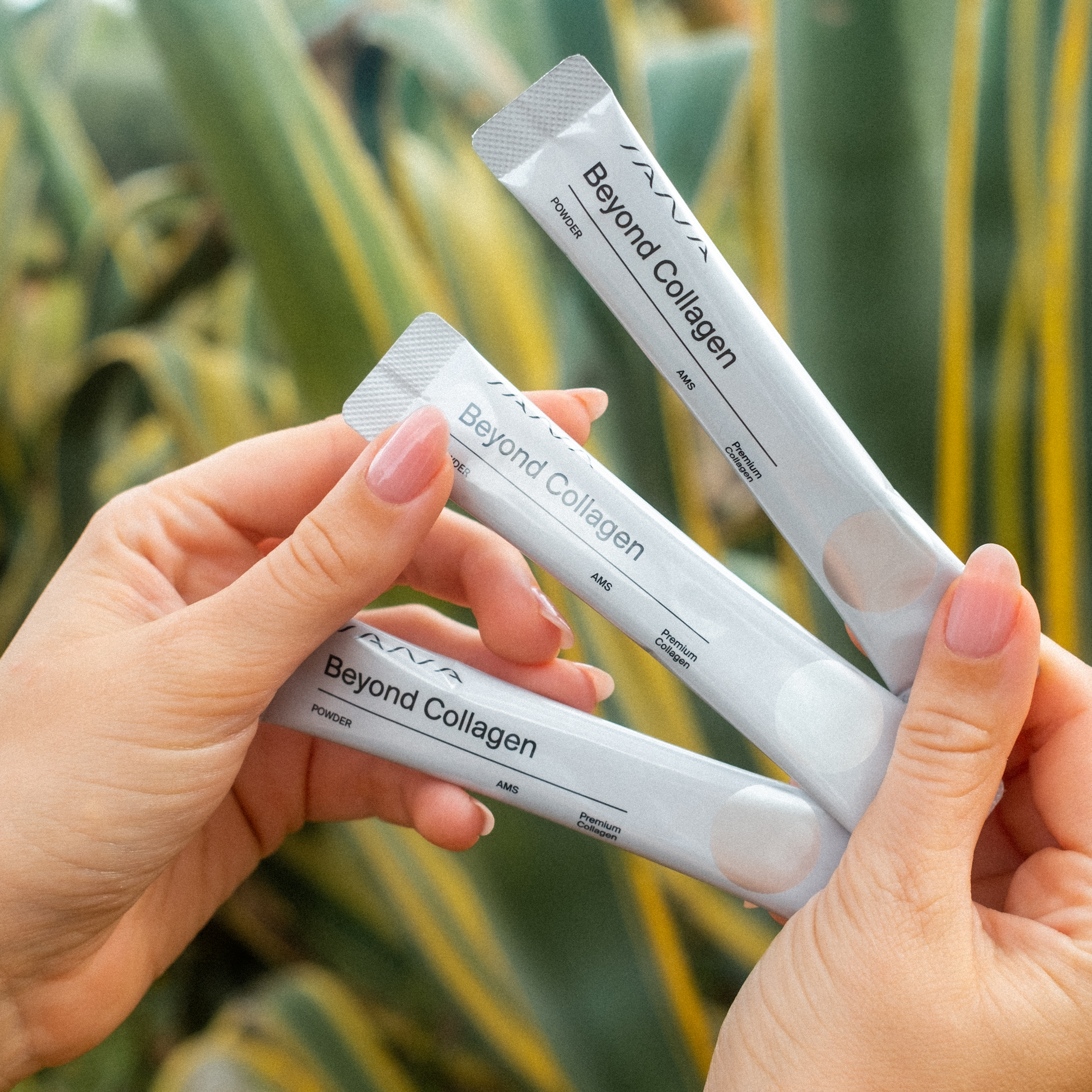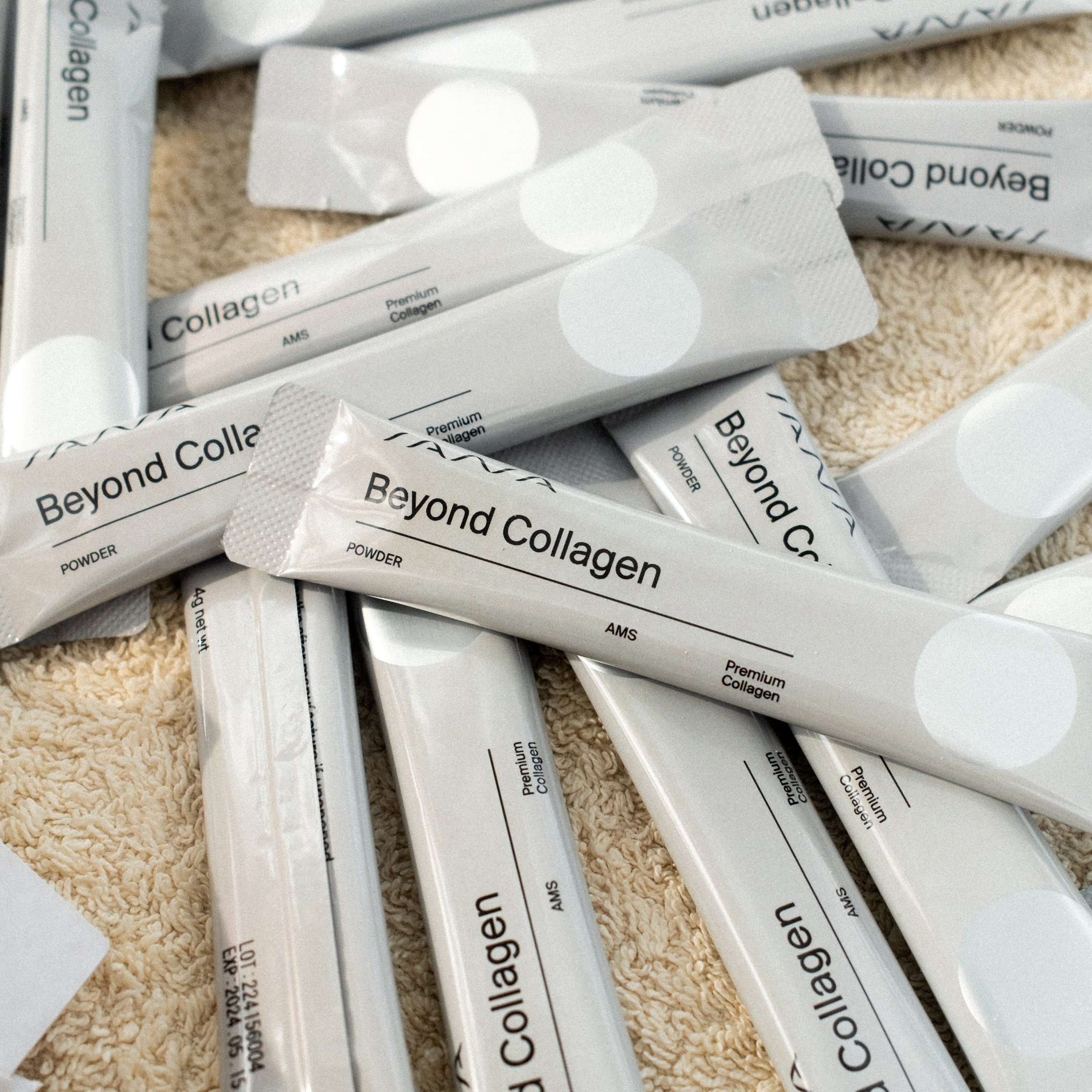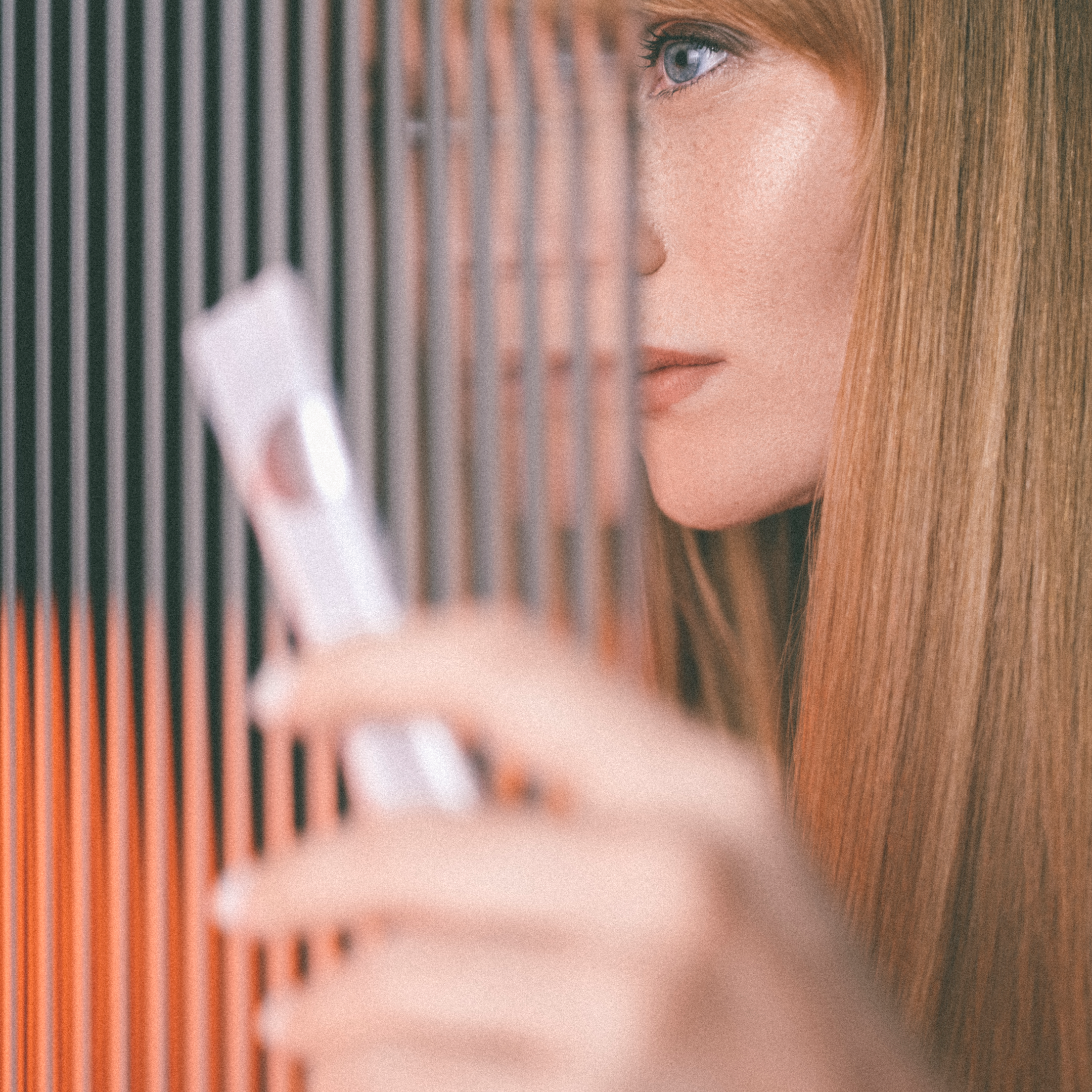 Premium quality marine collagen

Hydrolysed Norwegian marine collagen from sustainable MSC certified fisheries in Norway.

Vitamin C, Zinc, Biotin & Coenzyme Q10

Contains key vitamins & minerals to facilitate optimal collagen absorption and synthesis.

Sustainable

Created in an award-winning sustainable facility and with 100% recyclable packaging to serve our environment.
Testimonials





Very happy with the shots. The are tasty 😋

Lusine
Healthy and delicious. Thank you very much for the great product and fast delivery. I will recommend it to my friends.

Olga
Great taste! It became my new daily dessert, something I look forward to every day! So happy I can finally have a healthy supplement with pleasant taste!

Anzela
Great product! I love everything about this product - the performance, the look and the taste! I am using the Power Collagen and I can see that after 2 weeks my skin is more plumped and glowy. I also enjoy the flavour. I cannot consume most of the liquid collagens on the market due to a poor taste profile. This one is very fresh and easy to drink. Overall it's a beautiful product inside and out and I will definitelly keep on buying it.

Ewelina
Excellent product. Best collagen I have tried so far. Easy to use, very good taste, beautiful packaging. Definitely will order one more after my pack is over.

Diana
Follow us @sana.amsterdam